New Jersey freshwater fish identification
Eels and Lampreys
Family Anguillidae, Family Petromyzontidae
American and European freshwater eels (Anguillidae) migrate from fresh water to a place in the Atlantic Ocean
where they spawn and die. It is assumed that they migrate to the Sargasso Sea between Bermuda and the West
Indies. It takes about 1 year for the North American eel to make the journey and about 3 years for the European
eel. Newly hatched freshwater eels transform from larva ("glass eel", small and transparent) to an elver (darker
pigment, but still very small), and finally to adult. Males usually remain in brackish water; females may migrate far
upstream and remain there for up to 15 years before migrating to repeat the cycle. Lampreys are a very primitive
fish and are from the Petromyzontidae family. They are usually parasitic. They build spawning sites of stone using
their suction-disc mouths. Lampreys do not have jaws, scales or paired fins.
---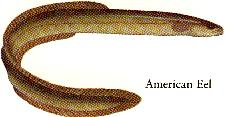 American eel (Anguilla rostrata) can grow to 60 inches, and have a long, slender snakelike body. They have a
pointed head and a long dorsal fin that extends over more than half of its body. They have a small, single gill slit
just in front of its pectoral fin, and a protruding lower jaw. They are yellow to brown above and pale yellow to
white below. Eels hide during the day in deep pools or near logs and boulders. The 6 Lbs. 2 Oz. NJ state record
was caught by James Long at Round Valley in 1994. There is a 25 eel daily bag limit with no minimum size.

American brook lamprey (lampetra appendix) grow to about 14 inches, and are not parasitic. They do not feed
as adults. They have 67 to 73 unpigmented lateral line organs. Lead gray to slate blue above, white or slivery
below, with a dark gray to black splotch on the tail. Breeding adults are olive-green to pink-purple with a black
stripe at the base of the dorsal fin.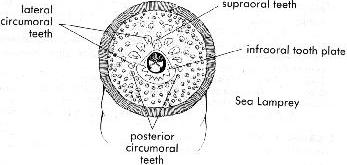 Sea lamprey (Petromyzon marinus) reach about 47 inches, landlocked individuals grow to about 25 inches.
They have 66 to 75 trunk myomeres (body segments), and large sharp disc teeth. Blue-gray to olive-brown
back, side and fins, with black mottling, white-yellow below. These parasites are a serious pest to lake trout.
---
questions about fish terminology? GO TO: FISH BODY CHARTS
GO TO NJ FRESHWATER FISH ID MAIN PAGE
GO TO NJ COMMON FRESHWATER FISH PAGE
GO TO NJ UNCOMMON FRESHWATER FISH PAGE
By Joe M. Cianci. See main page for list of sources. Send E mail to me at joecianci@comcast.net Comments welcome!
HITS ON THIS PAGE
04/11/99