New Jersey freshwater fish identification
SHAD and HERRING
Family Clupeidae
Most herrings and shads are marine, but a few species live only in fresh water, and some frequently enter fresh
water. These fish are strongly compressed, lack a lateral line and scales on the head; and have cycloid scales
on the body, 1 dorsal fin, a conspicuous adipose eyelid, abdominal pelvic fins, and no spines in the fins. The
belly has sharp pointed scales creating a saw-tooth edge. There are nearly 200 species of clupeids.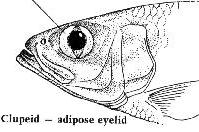 The adipose eyelid is a translucent tissue that partially covers the eyeball.
---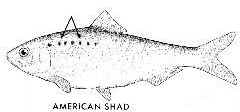 American shad (Alosa sapidissima) have dark spots behind the opercle, followed by smaller spots.
The cheek is deeper than long, and adults can reach around 30 inches.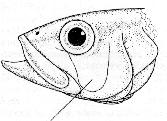 NJ State Record by Charles Mower caught in the Delaware River in 1984 weighed in at 11 Lbs. 1 Oz.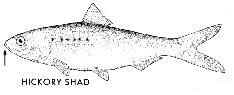 Hickory shad (Alosa mediocris) grow to about 23 inches, and have a cheek that is longer than or equal
to its depth. Small teeth can be found on the protruding lower jaw. The fins are mostly clear, often with
some black edges. Spots behind the gills are less defined, and reach to below the dorsal fin.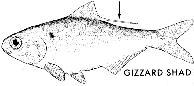 Gizzard shad (Dorosoma cepedianum) can grow to over 20 inches, and have a long last dorsal ray.
The have a blunt snout, subterminal mouth, and a purple to blue shoulder spot. Uncommon in NJ waters.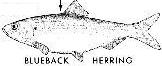 Blueback herring (Alosa aestivalis) can reach about 16 inches in length. They have an oblique mouth, with
the small toothed lower jaw equal to or projecting only slightly beyond the snout. They are blueish on the
top with silvery sides and 1 small blue-black spot near the upper edge of the gill opening. Adults have thin
dark stripes on the back and upper side with light green or yellow fins.

Alewife (Alosa pseudoharengus) can grow to 15 inches, but usually less than 10 inches. They are very similar
to the Blueback, but are more greenish on top, with larger eyes and a deeper body.
---
In NJ there is a 6 fish daily bag limit of any size for all shad. No closed season, but the run is seasonal.
No limit on herring.
questions about fish terminology? GO TO: FISH BODY CHARTS
GO TO NJ FRESHWATER FISH ID MAIN PAGE
GO TO NJ COMMON FRESHWATER FISH PAGE
GO TO NJ UNCOMMON FRESHWATER FISH PAGE
By Joe M. Cianci. See main page for list of sources. Send E mail to me at joecianci@comcast.net Comments welcome!
For more information on shad:
Fishing the Delaware River & Tributaries
HITS ON THIS PAGE
last update: 04/11/99